Mercedes-Benz Tire Center
---
Welcome to Mercedes-Benz of Anchorage
5 Reasons to Buy Tires From a Mercedes-Benz Dealership
The right tires for your Mercedes-Benz model
Competitive tire prices
Expert installation by factory-trained technicians
All major brands, including Continental, Michelin, Pirelli, Dunlop, and more
Road hazard coverage included on eligible tires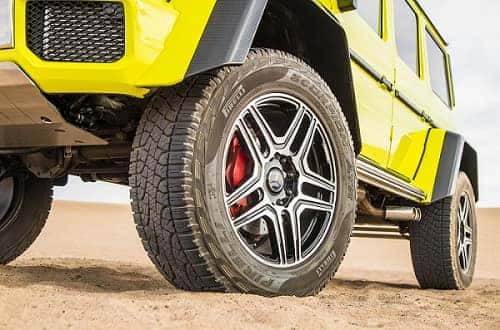 Tire Inspection in Anchorage
Your Mercedes-Benz tires are the only physical connection between your car and the road. Because of this, they can't just be great quality—that's only one factor. They also need proper maintenance with regular tire inspections and inflation checks. Tire pressure dissipates over time and can lead to uneven tread wear, which not only shortens the life of your tires, it can cause dangerous traction issues, especially in extreme weather conditions. In addition to this, improper installation of your tires can lead to unbalanced tire rotation and instability while driving.
When you come to Mercedes-Benz of Anchorage, you can be sure to get your tire inspection done right the first time at our Mercedes-Benz Tire Center in Anchorage, Alaska. Our expert technicians will install your tires, perform a maintenance check, and help you choose the right winter, all-weather, or summer tires for your vehicle. We also have many tire-related services such as wheel alignments, tire & wheel balancing, tire rotation, and tire pressure checks and corrections.
At our Mercedes-Benz Dealership, we have the latest in technology to make sure your next tire rotation or wheel alignment is fast and high quality.
Anchorage Mercedes-Benz Service Center
The friendly and knowledgeable team at our Mercedes-Benz Service Center and our Mercedes-Benz Tire Center in Anchorage, Alaska is here to help you find the right Mercedes-Benz tires you're looking for. We'll make sure that you get the proper tires to fit your Mercedes-Benz car or SUV. Schedule service online to save time on your next tire inspection in Anchorage. The job of our service technicians is to make sure that your car will keep you safe on the road. A tire inflation check and correction is a small step that you can take to ensure that your tires are safe for the road ahead.
Contact us today to schedule an appointment with our Mercedes-Benz Tire Center in Anchorage, Alaska for a new set of tires, or a tire inspection at Mercedes-Benz of Anchorage.